I've been bowling the past two weekends (which is more than I've bowled all year). During one of those outings, I got a request for a volume focused on things for men. After talking it over, we thought a volume specifically about bowling would be a good start. So here it is.
1. Men's ESL Flame Bowling Shoes by Etonic. These bowling shoes are so awesome you could wear them outside the bowling alley.  I love those flames. I hear they're hard to find though, so don't get too excited.
2. Richard Nixon Bowling Poster. This is coolest poster I've ever seen.  I want this in my house.  I also want that wallpaper.
3. Knock Off Bowling Pin Lamp. Even if you're not that into bowling, you can still act like you are with this lamp. This is super kitschy, but I kinda like it. It would go well with the Nixon poster.
4. The Simpsons Pin Pals Bowling Shirt. I could probably include something related to the Simpsons in every volume (they've made a lot of Simpsons swag over the years), but this might be the first time I've actually done it. Remember when the Pin Pals needed financing so they fired Otto and let Mr. Burns play?  And Mr. Burns was a terrible bowler, so it looked like they were going to lose the championship game? But then Otto knocked over the vending machine, which knocked down all the pins and the Pin Pals won the title? Good times.
5. Cranium Tribal Clear Bowling Ball. This ball is pretty badass. That's really all I need to say.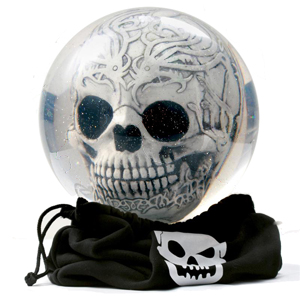 That's all for this week. See you next time!
Jenn @ April 27, 2009