This week's volume of awesomeness is another nutty one.  It feels like all I hear these days is bad news and dire economic predictions, so sometimes it's nice to escape with the silly and the bizarre.  If that appeals to you too, then you'll enjoy what I found this week.
1. Josephine Ruffled Scarf by Silvia66. So this isn't really silly or bizarre, but it's a wonderfully feminine, frilly and beautiful scarf. It's really pretty and it makes me happy.
2. AshiDashi Intestine Socks. These socks are both gross and awesome. I need more socks that look like other things, like these socks that look like intestines. Maybe brains, too.  These are definitely in the bizarre category.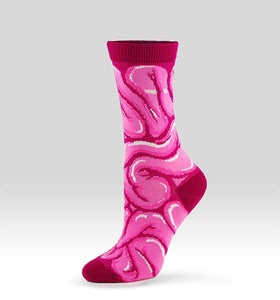 3. Star Trek Corset by EveningArwen. You'll be the hottest person at the Star Trek convention in this. I've never seen such a sexy Star Trek-inspired corset top. Never.
4. BLT Candles. The bacon-flavored toothpicks from last week were a big hit, so I'm bringing you another awesomely baconlicious accessory. This week, we've got candles scented like bacon, lettuce, and tomatoes. Who knew that bacon = freedom?
5. The Ambassador Fake Mustache. Fake mustaches are pretty neat. I like this particular model a whole lot; it's very distinguished. If this isn't your favorite mustache style, then check out this site for whatever fake facial hair you're looking for. There are some truly excellent options.
That's all for this week. See you next time!
Jenn @ February 23, 2009