This week, I'm going all gray.  Gray is one of those under-appreciated colors; it's often mistaken for boring. Well, I love gray! It goes with everything and is not even a little bit boring. For example, look at these totally non-boring things…
1. Destiny Pumps by Paris Hilton. Yeah, so these are from Paris Hilton's line. But they are so wonderful! The yummy gray suede, the big bows, the platform.  Very pretty.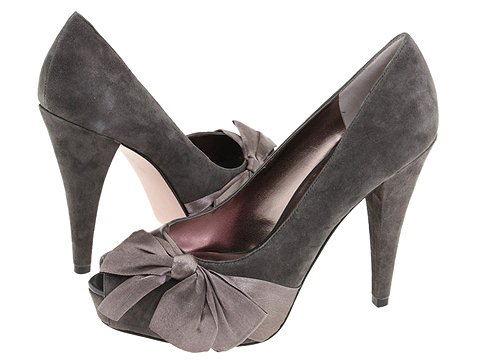 2. Novel Studio's Decanter and Glass from A+R. Gray glass is quite striking. I love the shape of this decanter and glass – very contemporary.  I can definitely see myself drinking wine from this. (To be fair, I can pretty much see myself drinking wine from most anything, so maybe that's not a ringing endorsement.)
3. Grey Lacey Cloche by CelesteCraft. There's still some cold weather left this year – maybe it's time to embrace it and get a new knit cap. Like this one, from CelesteCraft's Etsy shop. She has lots of great knitwear.
4. Linea Pelle Women's Braided Waist Belt with Multi Buckles. I think a gray belt would go with everything.  This belt is 76% off, making it a great deal on top of being a great addition to your wardrobe.  And look at all those buckles!
5. Carter Sectional by Gus Modern at IF+D. IF+D has great furniture and accessories for your home. In particular, I think this sofa is perfect.  It's clean and sophisticated, but also seems cozy and comfortable. Look at all those pillows! Check out IF+D's website for more furniture like this; just watch out for the kitten of discontent.
See? Gray isn't boring; it's awesome. More next week!
Jenn @ January 26, 2009