This is my first post of the new year; I hope you all enjoyed a wonderful holiday! Since it's a rainy, dreary day here in Austin, I'm only including the very prettiest things in this week's volume, to try to bring a little cheer to this drear. Enjoy!

1. Vintage 50s White Silk Organza Dress from Blythe Hopes Vintage. I wish I had a prom or something coming up so I could find an excuse to buy this dress.  It is simply stunning. Blythe Hopes Vintage has a great selection of vintage women's clothing.
2. Cellula Chandelier. I love this chandelier! It's a fun, contemporary take on a classic (and often stuffy) concept and it would look just gorgeous over a long dining room table.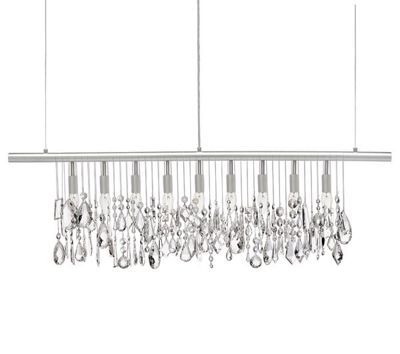 3. Old Fashioned Pink Roses Print by Dolce Chic. I can almost smell the roses in this print. I don't have much pink in my decor, but these would look so lovely on the wall that I'm reconsidering that. Dolce Chic takes very vivid, beautiful flower photographs.
4. Stormy Days earrings by PixiSette. These are beautiful earrings. And cheap (only $5.50)!  PixiSette's Etsy shop has lots of delicate and pretty jewelry, so I would recommend you go get some right now.
5. Weathered Blue Bottles from Pottery Barn. It would be more interesting (and probably cheaper) to find actually old bottles at a flea market or thrift store, but these bottles at Pottery Barn are very pretty.  I've always liked the look of mismatched glass bottles.
That's all for this week! See you next time.
Jenn @ January 5, 2009