Another week, another awesome list. Enjoy!
1. Anthropologie Ceremonius Top. This is a beautiful, delicate top. I don't normally like lace all that much, but this is so pretty.  And the color is nice, too.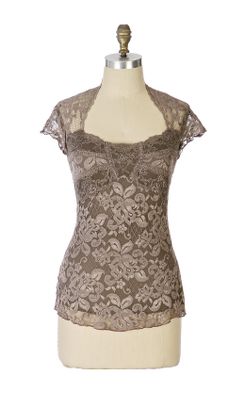 2. Lorca Turnlock Bag in Grey Zeus. I love this handbag. I love the color and the accents and the strap. I want this bag. Nay, I need it.
3. YOU by Crocs Gimlet Ankle Boots. I never in a million years would have thought I'd include Crocs in this list, but here they are.  And I actually like them. These ankle boots are cute and I bet they're very comfortable. So there you go, Croc lovers.
4. Card Holder in Lime Peel Paisley by Paisley Baby. This little wallet/card holder is a good Christmas gift, if you're still looking for ideas.  Paisley Baby has a lot of cute bags and holders.
5. 'No, you can't come… You are a mere pawn' Threadless T-Shirt. Ha ha, how cute is this shirt? Chess jokes are funny. And Threadless is awesome.  They're having their $5 sale right, and this shirt is one of those on sale.  Go there right now and get a shirt or two.

That's all for this week. See you next time!
Jenn @ December 16, 2008