I'm a day late with this week's volume, but I've been busy with the ZiteFight launch. But, late is better than never, right? 

1. Wake n' Bacon Alarm Clock. Wouldn't the smell of bacon be the best way to wake up? I think so. Aside from the possibility of setting your bed on fire, I think this is the best alarm clock ever.

2. Stuart Weitzman Suede Stacked Platform Pumps. It's just barely August but all the new arrivals at basically every store are for fall. That's fine; there's nothing wrong with planning ahead. But it won't be fall for two or three more months here in Austin, so I'm still looking for things I can wear in the summer. These Stuart Weitzman pumps aren't precisely summery (suede is not really a summer fabric), but the colors are bold and would be a great transition between seasons. I love the layers of color.

3. Dendrite II Earrings by Nervous. Not only are these earrings quite lovely, but they are smart as well. According to Nervous, the earring pattern was "generated using a diffusion limited aggregation algorithm." That sounds awesome, doesn't it?
4. Obama/Astley '08 Shirt. My new friend Kevin makes this shirt and I happened to procure one this weekend. Isn't it great? Assuming you know who Rick Astley is. If you don't know who he is, here's some more info.
5. Cat Playhouse. Here's something for the pet lovers – a cardboard cat playhouse. I personally like this one that looks like a tank, but the rest are great, too. Cats love to get in boxes and things; why shouldn't they get to play in something a bit more fun and a lot more badass?  Also, the cat in this picture looks a lot like my cat Evie, and it's oddly appropriate to see her in a tank.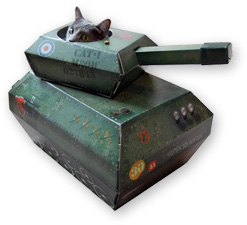 That's all for this week! Back next week with more awesomeness.
Jenn @ August 5, 2008