Lots of good stuff again this week. I know I say that every week, but it's always true.
1. YSL Platform Loafers. So, I'm still working out my particular feelings on loafers, but if you're inclined toward them you will probably enjoy these. I really like this dark turquoise color, but they also come in eggplant.  This is the definition of class right here, ladies and gentlemen. Yves Saint Laurent loafers. Class.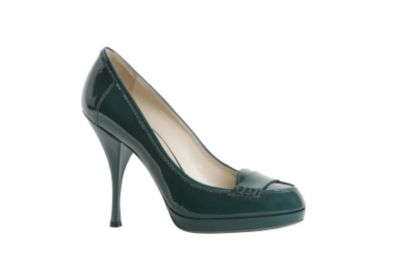 2. Five Toes Pantyhose. Okay, these are actually the opposite of awesome, but I had to share. First, I think pantyhose suck; no one wants to wear them. Second, anything separating my toes is just plain wrong; it feels weird. Third, I don't get it.  Why would you want to separate your toes with pantyhose?
3. Roller Stop Bookends. These bookends are pretty fun. Roller skates are awesome, books are awesome. Together, they are the unstoppable juggernaut of the bookcase universe. I wish I'd had these for my photo shoot last week.
4. Venus Flytrap Laptop Decal. If you live in one of those cities where everyone and their mothers have Macbooks (yes, I'm talking to you San Francisco and to a lesser extent, Austin), you might cover your Macbook in stickers to make it stand out from the rest. If that's you, might I suggest this Venus Flytrap decal? This comes from Michelle Christina's Etsy shop, and all of her graphics and decals are really quite great.
5. Eugenia Kim Muffy Equestrian Cap. I love hats. I never wear hats, but I love them. I wish more people wore hats. Fall is always a good time for hats, so if you're looking for something simple and elegant, but with a touch of distinctive flair, this is the hat for you. Plus, it'll be handy when you go to ride your horse.
Okay, that's all for this week. See you next week for more awesomeness!
Jenn @ August 19, 2008