There is all kinds of cool stuff this week, guaranteed to satisfy a variety of tastes.
Toastrite Red Willow Toaster. How much would you pay for a toaster? $30? $50? $100? How about $3,500? Well someone bought this crazy toaster on eBay for that much a few years ago, a fact I learned when I visited the Toaster Museum. I bet you didn't know anyone ever paid that much for a toaster. I also bet you didn't know there was a toaster museum. Well, you do now. Feel better?
Kicking Television RYZ Sneakers. These are just fun. I love the colors and the design of these hi-top sneakers. This sneaker design was voted on by visitors to the RYZ site and now you can buy it in limited quantities. I think it's the perfect back-to-school shoe!
Banana Leaf Hanging Lamp. I'm not sure how this works, but apparently this lamp is made from real banana leaves. It's colorful and pretty and completely different from any other lamp I've ever seen. I would definitely hang this in my dining room!

Belgravia Victorian Earrings from Bees. I had a hard time picking just one piece of jewelry to include from Bees, because everything they sell is gorgeous. And they don't cost very much, especially given how expensive they look. Do yourself a favor and check them out (for you or a loved one).
Office Space Party Game. This game looks like so much fun! I like the movie Office Space, I like parties, I like games. So this is the perfect combination.  Um, yeah… Did you get that memo?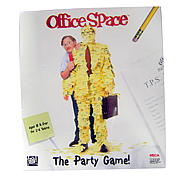 I hope this week's awesomeness helped you get over your case of the Mondays.  See you next week!
Jenn @ August 11, 2008