This week's awesomeness runs the gamut from expensive handbags to toys for fans of the Coen Brothers. As always, enjoy!
1. Tolani Cream Zebra pashmina. For some reason, I've seen lots of people wearing scarves this summer. Not in Austin, of course, because those people would die of heat stroke, but in photos from LA and NYC and London and so on. Scarves are great, so if you want to be all nutjobs and wear them in the summer, try this one from Tolani.  You can't go wrong with this zebra print.

2. T Bags jersey print tank dress with rosette belt. Now this is something I can wear here where it's hot. This dress is fantastic – the colors are bold without being too bright, the sash is flattering, and it needs no major accessories to complete the outfit. Perfect for summer, day or night.

3. Centenary suitcase. This suitcase is made from compressed layers of paper.  It's handmade with 150-year-old machinery.  And it's orange.  I would love to travel with this suitcase! But I would not trust the average airport baggage handlers to keep it scuff-free, so I may have to travel by private plane.  That's a sacrifice I'm willing to make, however.
4. Rebecca Minkoff Morning After Mini in ocean blue. I love Rebecca Minkoff's handbags, and her summer collection colors are bright and pretty.  It's a good size to carry lots of stuff, without being huge and bulky.
5. The Dude action figure. I've decide to include an action figure or toy at least once a month (remember the personalized action figures from a few weeks ago?).  Today, I present you with El Duderino. This is my geek pick of the week, as you either have to pick it up at Comic-Con in a few weeks, or wait to order it in August.  Comes with a white Russian. Bowling ball sold separately.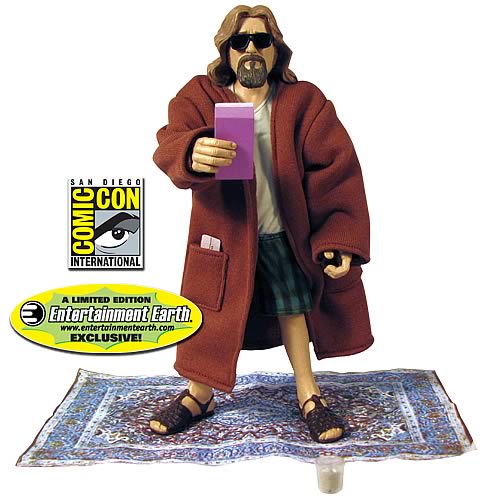 Jenn @ June 30, 2008