It's been 100 degrees in Austin now for a month (seriously, I'm not exaggerating), so even though it's not technically summer yet, I'm in a summery mood. This week's volume of awesomeness is going to focus on bright colors and all things summer-related.
1. Sergio Rossi buganvilia pumps. One thing I love – for the summer or otherwise – is a pair of brightly colored high heels. My favorite shoes right now are some round toe pumps in a brilliant sapphire blue. Here are some from Sergio Rossi in a bold, fun pink.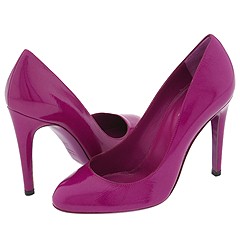 2. OPI's summer nail colors. OPI does the nail polish color collection right. I love the Russian Nights colors from the past winter, but when it's 90+ degrees outside, it just feels wrong to wear almost-black nail polish. So the Retro Summer collection is perfect.
3. Eurway Dangler Contrast vase. Pretty, modern and on sale! I love Eurway, but for those of you not in Texas, you can have their things shipped to you. This vase looks great empty, or filled with summer blooms.
4. Ray-Ban Wayfar sunglasses. Of course, these come in traditional black and tortoise shell, but the pink or white ones are much more fun. Either way, you've got to protect your eyes from the summer sun, and this is a good way to do it. Finally, sunglasses that don't hide my whole face or make me look like a bug!
5. Lenny Caftan cover-up. The color of this cover-up just screams summer for me. Yes, it's far too expensive for something you're going to get all sandy and wet, but it is meant to represent the whole category of pretty, useful cover-ups. Few of us feel like hitting the beach without something on over our swimsuits, so we should get cover-ups that we like as much as the swimsuits underneath.
Yeah, I know this week's volume was a little on the feminine side, so I'll try harder next week to find some good things for all readers, not just women. For now, I'm going to turn up my AC a bit and try not to melt so I can be back next week with more awesomeness.
Jenn @ June 16, 2008